When a woman has had two previous homebirths, she usually does not end up here. But for personal reasons, Christa chose to give birth to her third child in a hospital. However, she still wanted to birth like she did at home - she wanted things to be her way, the way she was comfortable, the way she knew worked for her. Christa's birth is unlike any other hospital birth I've seen. She was not hooked up to a single machine, there were no wire or cords or tubes attached to her, she wore her own robe (the hospital gown was behind an armchair - lol - I'm assuming it slipped off the back of the chair), she snacked on crackers and sipped Gatorade, Norah Jones was playing on the iTunes, and I'm honestly surprised she gave birth on the bed :) Christa didn't spend much time on the bed until right when the baby was born. I'm betting the doctor & nurse have never seen a birth quite like Christa's!! :)

Christa is a great example of a strong and determined woman. I didn't include a picture of this in the post, but hanging in the bathroom was Christa's make-up bag. The logo on the bag was "StrongMoms" Christa you are one strong mama! Thank you for having me at your birth!



This was a new sight for me! :) The husband on the bed instead of the laboring wife! I arrived at the hospital around 8:00am. Christa was at "6 to 7 cm" and was quite relaxed and calm. At one point, she even asked the nurse "Is this normal?"

8:16am

Christa explaining to her daughter how the muscles contract to push the baby out.
Waiting.... waiting.... 9:46am & 11:03am....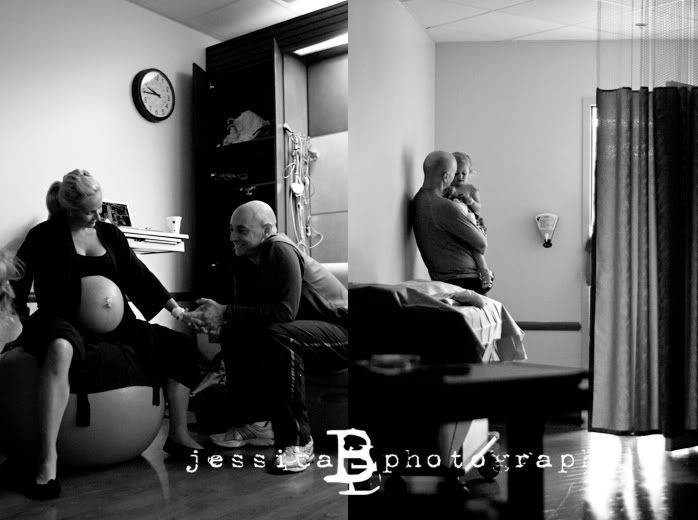 After a few hours of "not much progress" although being at "a 6 or a 7", the doctor suggested breaking the water. Christa, being very anxious to meet her new baby, agreed and things picked up rather quickly after that. 1:07pm
Pat was fabulously supportive. I love the looks of concern on his face.